WALCC Forum 2023
Transformative Innovation
in Action
the 23rd Forum of the World Alliance for Low Carbon Cities
September 19th – 21st 2023 in Vaasa, Finland
Transformative Innovation in Action
The 2023 World Alliance for Low Carbon Cities Forum in Vaasa will emphasize international collaboration in the spirit of the EU missions and accelerate the co-implementation of the twin green & digital transition. Vaasa, the Nordic energy capital and a forerunner in decarbonization, will host the forum. By working together with leading green tech companies such as ABB and Wärtsilä, Vaasa has become a leading energy innovation hub.
Transformative innovation calls for collaboration involving missions, policymakers, innovation agencies, regions, cities, researchers, and industry. The WALCC Forum will bring all these perspectives together to better understand the dynamics of multi-level governance and the means of engaging industry in joint efforts, anchoring the discussions in practical experiences.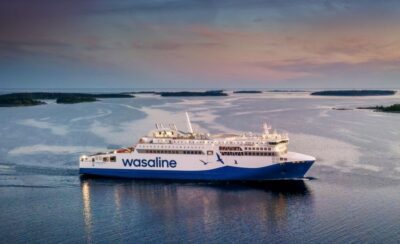 A feature of particular interest in Vaasa as an innovation hub is the Aurora Botnia ferry. The new passenger car ferry is the world's most environmentally friendly and operates daily, between Vaasa and Umeå, and functions as a research laboratory for companies in Finland and Sweden.
The first day of the Forum will be hosted aboard the Aurora Botnia ferry. The second day of the Forum will be at one of Ostrobothnia's most inspiring venues, the Wasa Innovation Center.
This year's forum is co-created with
WALCC Forum Registration has closed
Co-creating the 2023 WALCC Forum in Vaasa
The Forum seeks strong participation from leading companies aiming to strengthen their position in public-private innovation ecosystems to develop new technologies and help leading cities and regions achieve carbon neutrality.
The Forum organizers are looking for partners that want to leverage upon the possibility of interacting with other like-minded peers in co-creating the program. Please contact Jussi Hulkkonen (jussi.hulkkonen(at)walcc.org).
Read our latest newsletter for more information and an overview of the program
Program of the Forum with confirmed speakers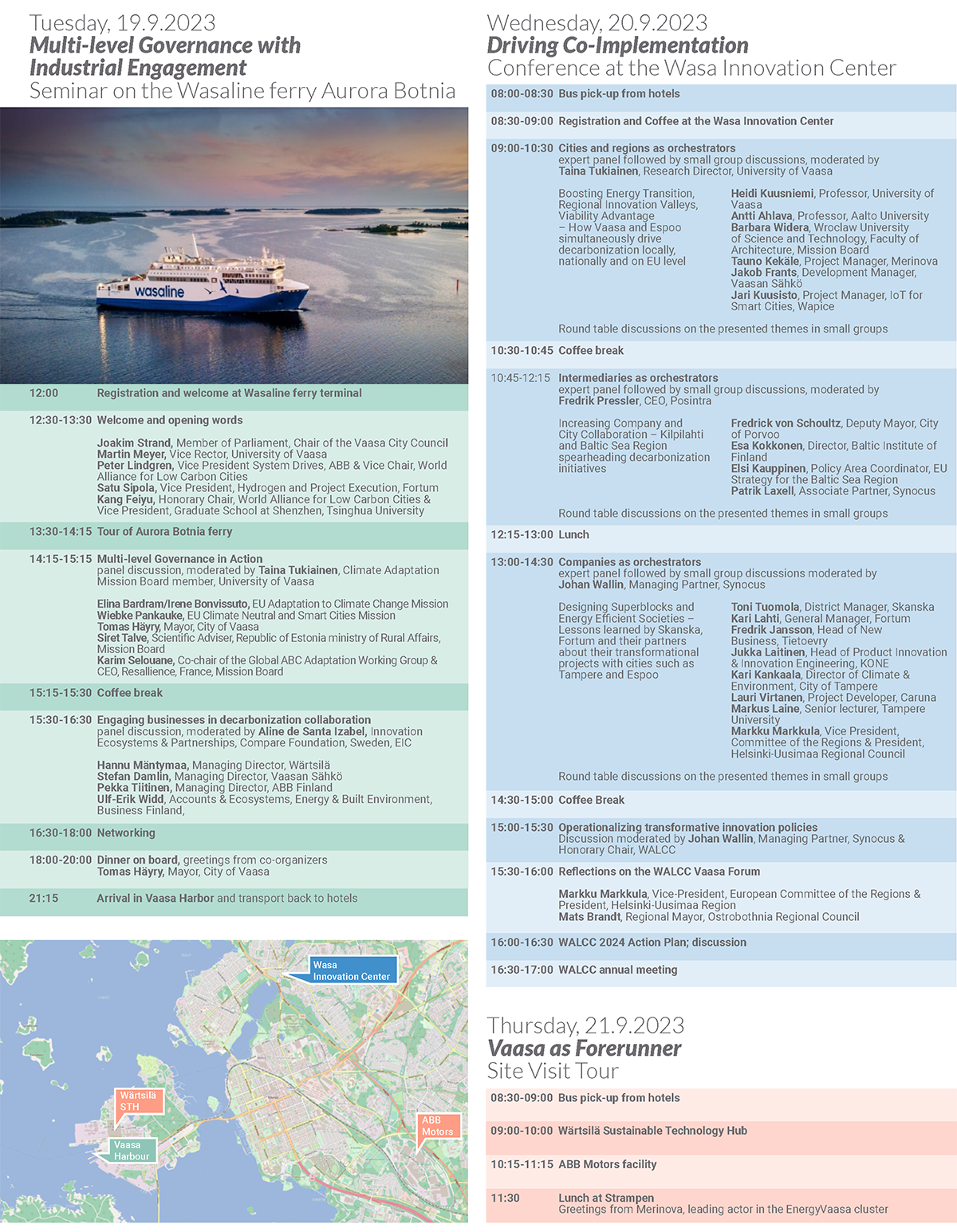 Travel Information
There are daily flight and rail connections between Helsinki and Vaasa, see below for a list:
Bus transport to venues:
For those joining the second day: 
The second day of the Forum will take place at the Wasa Innovation Center. 
The address is Gerbyntie 16, 65230 Vaasa.
We have arranged a bus transport from the city center hotels and Scandic Waskia to the Innovation Center (Scandic Waskia: 7:45, Sokos Vaakuna: 8:00, and Scandic Vaasa: 8:10). 
The registration and coffee at the Innovation Center begins from 8:30 
 For those of you joining the third day: 
A bus will be picking us up from the hotels beginning from 8:15 at the Scandic Waskia, 8:30 at the Scandic Vaasa, and 8:40 at the Sokos Vaakuna and drive us to our Site visits, the Wärtsilä Sustainable Technology Hub and ABB's Motors facility. We will finish at 11:30 with lunch at Restaurant Strampen in the City Center, where Merinova will tell us about the VaasaEnergy cluster.  
Helsinki-Vaasa:
By rail 
Intercity 41 (departure 7:20, duration 3:47)
Intercity 49 (departure 17:20, duration 3:46)
By air 
Finnair AY 313 (departure 13:00, duration 1:00)
Finnair AY 315 (departure 16:20, duration 1:00)
Vaasa-Helsinki
By rail 
Intercity 48 (departure 12:47, duration 3:48)
Intercity 50 (departure 14:45, duration 3:50)
Intercity 54 (departure 16:25, duration 4:10)
Pendolino 442->Pendolino 56 (departure 18:07, duration 4:28 with 1 transfer)
By air 
Finnair AY 314 (departure 14:25, duration 1:00)
Finnair AY 316 (departure 17:40, duration 1:00)
Hotel Information
For those seeking accommodation for the duration of the Forum, we recommend hotels near the center of Vaasa such as Scandic Vaasa and Original Sokos Hotel Vaakuna Vaasa. Use the dedicated reservation code listed below, if available, when making your individual booking