10 November 2021
Alliance holds 20th Forum in Shenzhen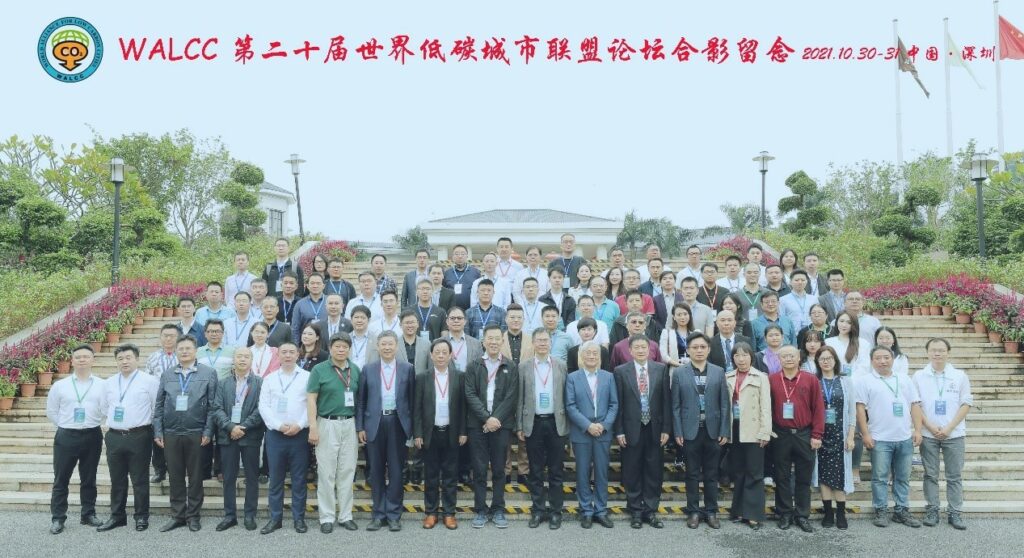 On October 30-31, 2021, the Alliance held its 20th bi-annual Forum in Shenzhen to address the theme of "Carbon Neutrality and Energy Green Transformation". The Forum explored the transition to carbon neutrality and green energy to contribute to China's vision towards carbon neutrality by 2060. The Forum was organized by the Alliance together with, Sigs-Imr Carbon Neutralization Research Center of Tsinghua University, Shenzhen Qingxin Power Research Institute, and Zhongqing Low-Carbon Technology Center,
General Secretary Xi Jinping's 2020 announced at the UN General Assembly China would strive for peak carbon by 2030 and neutrality by 2060, setting in motion a new phase in the country's efforts to curb climate change. This was strengthened by the CPC Central Committee who, in October 2020, concluded the country must accelerate the promotion of green and low-carbon development, support qualified places to take the lead in reaching the peak of carbon emissions, and formulate an action plan for reaching the peak carbon by 2030. Green sustainable development will now run through all fields of China's economic and social development in order to achieve peak carbon and carbon neutrality.
To this end, the 20th World Low Carbon Cities Alliance Forum brought together scientists in the field of carbon neutrality and energy-related fields, industry research experts, investment and financing experts, carbon-neutral and related industries entrepreneurs, etc., to discuss carbon neutrality and energy green transformation, and strive for China's goal of carbon neutrality by 2060.
The forum was chaired by Kong Ying, President of the World Alliance of Low Carbon Cities, Professor of Tsinghua University and Director of the SIGS-IMR Carbon Neutrality Research Center at Tsinghua University. Kang Feiyu, Honorary President of the World Alliance of Low Carbon Cities and Professor of Tsinghua University, delivered an opening speech.
Dr. Johan Wallin, Honorary Chairman of the World Alliance of Low Carbon Cities and Managing Partner of Synocus Group, attended and delivered a speech via video link.
In the keynote speech, Chinese Academy of Engineering academic Yu Weidou, Chinese Academy of Sciences academic Cheng Huiming, Chinese Academy of Sciences researcher Zheng Quanshui, Chinese Academy of Engineering academic Chen Qingquan, American Academy of Engineering researcher Chen Shiqing and other five academics attended the Forum and delivered keynote speeches.
On the afternoon of October 30, Professor Cheng Huiming, a member of the Chinese Academy of Sciences, delivered a keynote speech entitled "Talking about the development of energy storage batteries from a resource perspective". From the point of view of resources, Cheng will analyze the positive and negative materials of lithium-ion batteries, and expound the properties and applications of lithium-ion batteries, sodium-ion batteries, non-lithium-ion batteries, polyvalent ion batteries (calcium-ion batteries, water-based zinc-based batteries, etc.) one by one, and publish the latest results on the recycling of waste lithium-ion batteries. Cheng pointed out that the green energy transformation cannot be separated from the efficient use of clean renewable energy, at this time, energy storage technology plays a key supporting role, in reducing dependence on lithium resources, the new non-lithium energy storage technology will become one of the future development direction, and the recycling and utilization of used batteries will greatly reduce costs, protect the environment and improve the efficiency of resource utilization.
Professor Weidou Yan, a member of the Chinese Academy of Engineering, was unable to come to the scene due to travel restrictions and delivered a keynote speech entitled "Innovation-driven development of China's advanced coal-fired power technology" online. Academician Zhai Weidou believes that to achieve the targets for 2030 and 2060, energy is the main battleground. Reducing the use of coal power is the most significant challenge as well as the action with the greatest impact, without reducing coal power, reaching the targets is impossible. Taking a series of advanced coal power innovation technologies designed by Feng Weizhong, a well-known power expert, as an example, he introduced the cases of super-supercritical, supercritical and subcritical coal power units, and demonstrated the innovative application of China's ultra-low coal consumption power generation technology; A three-step roadmap with near-zero carbon emissions. Driven by innovation, coal power is actively promoting and encouraging the use of biomass-coupled combustion power generation in active coal power units by upgrading existing coal power units, and vigorously promoting CCUS in the hope of achieving near-zero CO2 emissions from all coal-fired power generation by 2025-2045.
Professor Shiqing Chen, a member of the National Academy of Engineering and a member of the American Academy of Arts and Sciences, delivered a keynote speech entitled "Low-carbon applications based on "Brain Science and AI and Intelligent Supercompensation" to help achieve carbon neutrality. From "the human brain is the world's lowest energy consumption computing carrier" as the starting point, Chen Shiqing proposed innovative means to build brain science, AI and intelligent super-calculation of low-carbon applications to advance carbon neutrality. At the Forum, Chen cited low-carbon solutions in ten applications, including smart healthcare, education, agriculture, transportation, security, energy, environment, creative, manufacturing, and finance.
Professor Tang Jie of Harbin University of Technology (Shenzhen) and former Deputy Mayor of Shenzhen, delivered a keynote speech entitled "Supply-side structural reforms to achieve peak carbon emissions and carbon neutrality – Shenzhen's high-quality development to help reduce carbon emissions" keynote speech. Professor Tang Jie believes that the high-quality development should be based on the establishment of a measurable industrial structure upgrading and carbon emissions peak related indicators system, effectively resolving the contradiction between carbon peak and economic growth.
Professor Tang also pointed out that peak carbon emission is not a defined carbon emission value, rather a phase at which total carbon emissions stabilize. Professor Tang believes that structural upgrading is not likely to be smooth sailing, into the carbon peak platform period, there is still the possibility of fluctuations in carbon emissions between years, to maintain the annual carbon emission target has a certain degree of flexibility. At the same time, we should pay full attention to the responsibility of carbon emission accounting and emission reduction in energy production provinces and energy consumption provinces.
Professor Chen Qingquan, Fellow of the Chinese Academy of Engineering, Fellow of the Royal Academy of Engineering and Founding Chairman of the World Electric Vehicle Association, delivered a keynote speech entitled "New Energy Vehicles and the Energy Revolution Boosts Carbon Neutrality" online from Hong Kong. Chen Qingquan believes that the automobile revolution and the energy revolution need to establish the integration of humanities-artificial intelligence-environment, promote the fourth and fifth industrial revolution, and promote carbon neutrality. Chen pointed out that the four-network, four-stream fusion is the evolution path from the fourth to the fifth industrial revolution. Finally, Chen's characteristics will be Inspiration, Imagination, Innovation, Integration, implementation, and Investment, the six I(eye) metaphors for a person's six eyes, to go up, down, forward, backward, left and right, to examine all possibilities in all directions, towards the dual carbon goal of solid and effective progress.
On the morning of October 31st, the Forum began with a keynote speech by Kari Lahti of Fortum eNext, entitled "Urban Low Carbon Transformation – Central Heating".
On the afternoon of October 31st, Professor Zheng Quanshui, a member of the Chinese Academy of Sciences, director of the Institute of Supersliding Technology of Tsinghua University Research Institute in Shenzhen, and president of Shenzhen Zero-1 College, gave a keynote speech entitled "Structural Supersliding Technology and Energy Saving and Energy Saving". Structural superslide technology refers to how to achieve "lubricant, two solid surface contact coefficients of friction with the slide speed tends to zero and wear zero state" technology. Zheng Quanshui is the world's top scientist in the field of supersliding. Zheng pointed out that the ubiquitous frictional wear on energy and the environment has a huge impact, 30% of the world's primary energy consumption by friction, 80% of mechanical component failure caused by wear, resulting in a large amount of carbon emissions, can be the future structure of ultra-slide technology industry applications to bring revolutionary changes. From the perspective of using energy or carbon emissions to solve basic needs, Zheng provides application-side scientific and technological innovation solutions for future low-carbon development.
Round-table dialogue session, under the chairmanship of President Kong Ying, President Zhou Xinhua, Chongqing University of Industry and Commerce Professor Dai Chunyan, Shenggao Group Vice President Huang Ping, Ruida International Chairman Hu Jiada, Dongguan Low Carbon Development Promotion Association President Koo Maojun and Shenzhen Science and Technology Expo General Manager Chen Wei and other guests to share the brilliant views under the theme of carbon and energy green transformation.
2021 is the 10th anniversary of the establishment of the World Alliance for Low Carbon Cities as well as the beginning of China's 30/60 dual-carbon vision. The Alliance wants to work with people from all walks of life concerned about and supporting low-carbon development, China and the world to explore low-carbon development, hand in hand to help China's dual carbon vision of scientific realization, and work together for a better, greener sustainable human environment!